Cord Healing Guided Meditation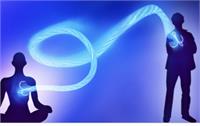 Energetic cords are formed between ourselves and others or even objects. There are two cords that form between people, a positive and a negative. The positive cord is all the good that connects you to this person, and the negative cord is all the negative experiences that connect you to this person.
Join us on this night as we heal these cords, or even cut them if that is needed. This meditation will help heal toxic relationships, release the self from attachments, and generally improve your connection to others. Learn skills to help heal energetic connections and end unhealthy cycles.
We will have an open talk about what cords are with a general Q & A. Then a guided meditation portion with further discussion following. Another meditation may occur if needed. Closing will include a symbolic healing or cutting of cords with a sage smudge.
Cost is $15.
In preparation please avoid caffeine. You are welcome to bring a journal, crystals, or other personal objects to assist.
Upcoming classes:
Sign Up

Sat

Dec 15 6:00 pm - 8:00 pm

with

Gabrielle

Trout